All day I have been feeling like it's Friday because my kids don't have school tomorrow or Monday, so it's thrown me for a loop all day and I totally forgot about an appointment I had because I thought it was Friday. Blah. Moving on…
The morning started off with a little Spark in my cup.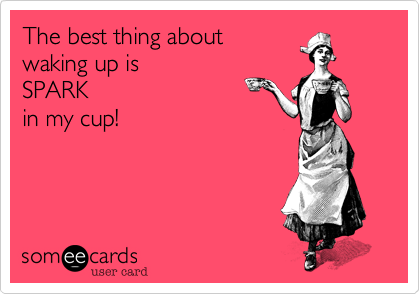 I blended it with the usual sparkling water, but this time added a handful of ice cubes so it made it into more of a spark slushie.
and the new standard breakfast: peanut butter and pineapple preserves toast.
I could not get my Turbo Fire DVD to play today and by the time I got it playing and started, the toddler was in near meltdown mode and so I gave up. She is normally the easiest baby of all time, but lately, she is getting into EVERYTHING. Like I can't turn my back for a second. Thank goodness for naptimes. Seriously.
Lunch was cheese wrap covered in the world's best salsa (Jack's from Costco. )
When I saw this recipe over at Iowa Girl Eats, I immediately pinned it and put it on our meal plan for this week. Holy crap on a cracker. This may be my new favorite chicken, super easy recipe and SOOO delicious. My picture doesn't even do it justice, for totally drool worthy pictures of this recipe, go HERE.
I had a feeling I was going to love this recipe, so I made enough to have for lunch tomorrow. Love when I plan ahead.
Finished this just in time, I had 3% left of my laptop battery and of course a child of mine took the cord and I have no idea where it is. Have a great night!