I know, I know, you see this all over social media- but it's so true! I have found that if I skip my Monday workout, I am much more likely to skip the next few days as well. Total cliché- but, I do what works for me!
Breakfast was the usual- baked strawberry oats.
After running some errands, we came home for lunch and a much needed nap for the toddler. She has been waking up around 5am, so by 11:30ish, she is done and takes a really long nap. Just in time to go pick up the other kids from school. While she napped, I made up this delicious salad and caught up with the DVR.
I picked up a new (to me) dressing today, it was amazing! Tasted just like a local restaurant's Greek dressing.
After doing some cleaning and laundry and running the dishwasher, I had a grapefruit and had just enough time to watch the crazy Dr. Phil episode that was on Friday. I had watched the original episode where she was on. Homegirl was convinced that she was pregnant with the baby Jesus and that she was Eminem's long lost daughter.
You can't make this stuff up. The rest of it was on this evening, we'll see if he is able to get through to her and get her the help that she desperately needs!!
I had some time to kill before dinner since we were just going to have leftovers, so I decided to squeeze in my workout. Holy butt burners.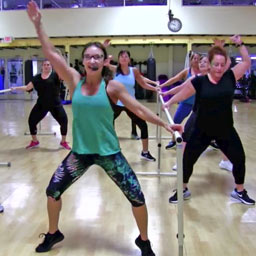 I don't know how I used to do so much ballet, I was dying and my legs were shaking by the end! Every time she said, just a few more pulses, I wanted to scream!!
Dinner was a leftover night- we had a ton of them, but aside from the giant container of chili, everything else is gone.
I am off. Time for baths, homework and a little bit of family time. Anyone watching The Bachelor tonight? I had such high hopes for Nick, but I think things are about to get nuts.